Car Rental Baguio Downtown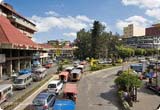 Baguio Downtown is a hub of activity. You can enjoy everything from a massage at a luxury spa to an evening at some musical festival. If you are in Philippines, then definitely visit this exotic city. The many restaurants, shopping outlets and other recreational spots will keep you happily busy. People of all ages will find Baguio Downtown a place they love and want to visit again someday.

If you have been thinking of how to travel in Baguio, then car rental is your best option. At VIP Cars and we will befit you with a car that will not only suit your needs but also suit your personality! As we work in association with the best car rental services in town, we will be able to provide you with services that are guaranteed to leave you satisfied. You don't have to worry about costs, as ours are the most inexpensive.