Car Rental Bydgoszcz Airport (BZG)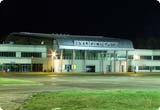 Bydgoszcz Airport or the Bydgoszcz Ignacy Jan Padrewski Airport lies only 3.5 km from the city center. The airport is 9th in Poland in terms of passenger traffic. Presently Bydgoszcz Airport has one runway and one passenger terminal. The airport served around 279,536 passengers in 2011.From the Bydgoszcz Airport, you can proceed to hotels situated near the airport. One is Hotel Pod Orlem that features an astonishing Art Nouveau facade. Another is the City Hotel conveniently located at the heart of Bydgoszcz. The nearby city from the airport has sites for music and art lovers. You can visit the Pomorska Philharmonic, Opera Nova, Theatre Polski and Center for Arts Exhibitions; these are but a few that organize various concerts and performances.

From the Bydgoszcz Airport, proceed to the enchanting city of Bydgoszcz with our best car rental services.