Car Rental Rzeszow Airport (RZE)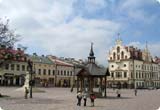 Rzeszow Airport is an international airport that is located 10 kilometers from the center of Rzeszow City in Poland. One of the busiest airports in the country, the airport features a long runway and it serves many flights from both local and international carriers.Since the airport is just 10 kilometers away from the city center, it is near many attractions in the city which include the Philharmonic Hall of Malawski, the old town hall and the main square. The airport has single passenger terminal. The airport becomes a preferred arrival point for Jews on pilgrimage to the tomb of Rabbi Elimelech of Lizhensk mostly in March.

Tourists who get in Poland via Rzeszow Airport should rent a car directly from VIP Cars.