Car Rental Poznan Airport (POZ)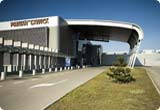 Also known as the Poznan-Lawica Henryk Wieniawski Airport, Poznan Airport is the oldest airport in Poland. The airport is located five kilometers from the city of Poznan. The airport is used by the Polish Militia but is now transformed into a commercial airport in 2001. Poznan Airport handles 1.5 million passengers yearly.Serving daily flights from local and international carriers such as Aegean Airlines and EuroLOT, Poznan Airport offers modern facilities and amenities to passengers such as Wi-Fi ready lounge areas and concessionaire shops. On the other hand, the airport is also near tourist attractions such as Church of St. Mary and the Imperial Castle. The airport is also nearby museums and universities.

Book your Poznan Airport car rental with us now!