Car Rental Krakow Train Station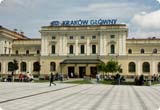 The city's main train station is Krakow Train Station or commonly called Dworzec is located just northeast of the Old Town. It was constructed between 1844 and 1847 by architect P.Rosenbaum and is considered as the largest train station in Krakow. It is situated on the Vistula River, in the Lesser Poland region.A new urban shopping centre GaleriaKrakowska or the Krakow Gallery opened in September 2006. In Krakow, you can find their historic centre, which comprises the Old Town, Kazimierz and the Wawel Castle, which was included as the first of its kind on the list of UNESCO World Heritage Sites. You can also visit any of the city's 40 parks.

VIP Cars can provide best car rental service with a car of your choice anywhere around the world at a guaranteed low price.