Car Rental Warsaw Train Station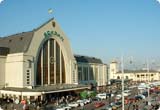 Warsaw Train Station is considered as the most important railway station in Warsaw. The Polish city is situated on Vistula River, roughly 260 kilometers from the Baltic Sea and 300 kilometers from the Carpathian Mountains. Just a 10 minutes' walk from the Old Town you can find Saxon Garden, the oldest public park in the city.Located on Warsaw Cross-City Line is Warsaw Train Station. It has four underground island platforms and is served by long-distance domestic and international trains of PKP Intercity and Przewozy Regionalne as well as some of the regional trains operated by Koleje Mazowieckie. While there you can also go to Wilanow Palace, the former residence of a Polish King.

Get bestWarsaw Train Station car rental deals at exclusive prices through us. Call us now.