Car Rental Modlin Airport (WMI)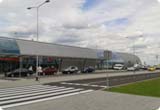 Modlin Airport or the Warsaw – ModlinMagovia Airport is an international passenger airport which was a former military airfield. Modlin Airport is another access to Warsaw and its many interesting sites. The airport is situated around 35 km north of Warsaw Downtown in Modlin. On February 8,2010, the airport was registered officially as a civil airport by the Polish Aviation Authority.The airport has one asphalt runway.There is a wide variety of hotels situated near the airport. Other hotels in the area are: Hotel Apartamenty, Hotel DworKonstancin, DesilvaPiaseczno and the Polonia palace. From the Modlin Airport, you can also see some tourist spots like the St. Anne's Church, the Uprising Museum, the Football Stadium, and the Pilsudski Square and Saxon Gardens.

Enjoy the famous sites of Warsaw by rent a car at Modlin Airport.