Car Rental Ibiza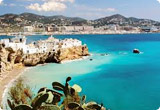 Ibiza is an island in the Mediterranean Sea 79 km off the coast of the city of Valencia, Spain. This intriguing island is well-endowed with luscious beaches and interesting sites that will make any visit worthy and rewarding. One of these is the Calad'Hort, a cozy beach on the western seaboard, with a stunning view of the mysterious island of EsVedra that is situated about several hundred meters from the shore.
Make it a point to pass by Puig de Missa, also in Ibiza, declared "picturesque spot" by means of a Decree dated August, 1952. Its baroque altarpiece was made by Jose' Ferreresbetween 1674-1678. Another exciting site to visit is the Phoenician settlement remains on the rocky headland at Sa Caleta, Ibiza, dating from 654 BC.

From historical landmarks, party lifestyle, vibrant nightlife, rich cuisine to breathtaking beaches, there is so much to do and see in Ibiza. Book your car rental to make the most of your stay in Ibiza.