Car Rental Ibiza Downtown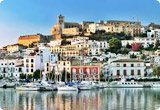 Ibiza Downtown has numerous sites to offer that will keep you enthralled and mesmerized. One of these is the Ibiza Castle situated in the Old Town of Ibiza. This sand-colored fortress is centuries old considering its history and design. Its medieval architecture makes it a world heritage site. Along the west-facing peninsula of Calad'Hort in the south o the island, is Torre d'esSavinar. This is a defensive tower on cliffs overlooking the mysterious island of EsVedra.

For a pleasant experience of your shopping escapades, try the popular reVOLVER, a designer clothing store where you can buy the latest in fashion for men and women. From food, sightseeing to party, Ibiza Downtown has it all.

Book your car rental for Ibiza Downtown with us and make the most of your stay in this Spanish island!