Car Rental Playa Portinatx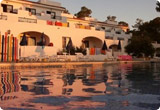 If you are looking for the best summer destination, then Playa Portinatx is perfect for you. They are one of the best beach resorts in town and it is also a favorite spot for snorkelers and scuba divers because of their crystal-clear waters. And it is also a good place to chill and unwind from your busy lifestyle.
For the tourists that prefer nature-seeking adventure, Punta d'esMoscrter is a perfect place. They have a nice hiking trail and it takes three wonderful hours of before you reach the majestic lighthouse. Not only that, you also get to see the beautiful view of what nature can offer.

VIP Cars have many great offers to both business and leisure travelers: unlimited mileage, widest collection of car rentals and no hidden charges and many more. Book a car now!