Car Rental Can Picafort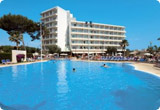 Can Picafort or C'anPicafort is a tourist resort area in the municipality of Santa Margalida, on the North East Portion of the Spanish Balearic Island of Majorca. Can Picafort is strategically situated on the coast of the Bay of Alcudia. The settlement of Can Picafort comprises of a five kilometer long of beach line and separated from the nearby Son Serra de Marina by the Albufera Swamp.
When vacationing at Can Picafort we recommend that you get a car rental for easy commuting from Santa Margalida to this touristic settlement. A low priced car rental allows you to affordably see and experience the whole of Can Picafort and neighboring settlements.

With a rental you can head to the S'Albufera Park which boasts of its bird sanctuary and hiking trails. Also see the Son Real Necropolis famed for its Phoenician cemetery dating to the Iron Age.