Car Rental Paguera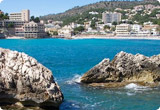 Pahuera is a word from Catalan which directly translates to "oven tar." It is located on the island of Majorca in Spain. They are many beach resorts and hotels that you can choose from. There is one place in Paguera that both locals and tourists call "Little Germany."
In Camp de Mar, you will find PegueraRomana; a beach resort that is known for their fine sand and known as one of the top summer vacation for both locals and tourists. If you love German beer, then this place is for you; they celebrate an annual German-style beer festival which makes it one of the sought after event in town.

VIP Cars is an international rental broker working with reputed car rental companies across Spain, thus you enjoy cheapest deals for Paguera.