Car Rental Ibiza Airport (IBZ)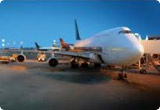 Ibiza Airport serves the Balearic Islands of Ibiza and Formentera in Spain. The Ibiza Airport is located 7 km southwest of Ibiza town and is seen as one of the many landmarks of the area. The airport serves a year-round scheduled inter-island and mainland traffic, with flights operating to primary business centers such as Barcelona and Madrid.

From the Ibiza Airport, one can proceed to Necropolis del Puig des Molins, and be in the middle of Ibiza's ancient civilization in the annex of the Archeological Museum. Part of old Eivissa's is designated as a World Heritage Site. It houses the ancient, burial chambers, dating back to the Punic and Phoenician periods. Ibiza is all about heritage, ancient civilization, rich cuisine, spectacular beaches and mind blowing nightlife. People from across the world prefer to come to Ibiza when looking for a lively and vibrant nightlife and clubbing environment.

VIPcars.com is a leading car rental service provider with a fast and easy online booking at best prices. Book your car for Ibiza Airport now!