Car Rental Ibiza Eulalia Del Rio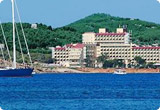 Ibiza Eulalia Del Rio is a coastal town on the south eastern seaboard of the Spanish island of Ibiza. The town has a lone river which flows into the sea at the western end of the town. At the heart of Ibiza Eulalia Del Rio is the Ajuntament (town hall) which dates back to 1795. There is also a stone monument built by the city of Palma, Mallorca to honor the fishermen for rescuing the victims of the shipwrecked steamboat "Mallorca".
The "Carrer de Sant Vincent" is lined with many Taverns and restaurants and there is also a triple arched bridge from the mouth of the river, the Pont Vell, reckoned to have been built by the Romans between 200 BC and 400 AD.

Have an exciting tour of the Ibiza Eulalia Del Rio with VIP cars.com, the leading car rental broker. We give you access to top deals and best rental prices!