Car Rental Corralejo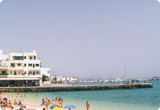 Located at the northern tip of the island Fuerteventura which is one of the famed Canary Islands, Corralejo is a town and resort situated in the municipality of La Olivia. It faces the small islet Lobos and is about 2 miles, making it the largest holiday resort on the island.

As usual, the beaches are the most attractive features of the island. It has about 7 miles of white fine sand along with other bays in the area. There are also some sand dunes which have been proclaimed as a nature reserve. Corralejo's waters are clear and crystal blue which tourists have repeatedly admired and visited. There are also many restaurants that serve exotic cuisine in the area.

Rent a car at Corralejo and drive to the Fuerteventura city and its attractions. Book now!