Car Rental Gran Canaria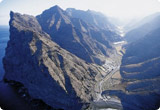 Known as the second most populous island in the Canary Islands in the Spanish archipelago, Gran Canaria or the "Great Island of Dogs" is located west of Fuerteventura and is of volcanic origins. It is divided into 21 municipalities and is popular for its micro climates, earning the nickname "Miniature Continent".

There are 32 protected natural areas that you can visit. Some of these are the Rural Park of Nublo, The Doramas Jungle and the Azuaje Ravine. The south, which is sunnier, holds various resorts and natural parks. Here you can see the Cocodrilos Park, Cenobio de Valerón with about 290 caves and CuevaPintada which is the most important archeological park in Canary.

Get exclusive car rental eals and discounts for Gran Canaria with us!