Car Rental Ariana Downtown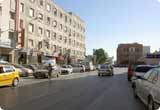 A beautiful coastal city located in northeastern Tunisia, Ariana serves as the capital of the Governorate of Ariana. While the city has been ranked among some of the oldest inhibited regions of Arica, majority of ancient settlements signs are found concentrated within the downtown. Besides grandest hotels, resorts, and restaurants, you would come across some of the best preserved mosques, fortresses, and old town squares. Travel in style in a VIP Cars powered Ariana Downtown car rental deal that comes directly from leading domestic car rental suppliers of Northern Africa.

Fill in your details, search your vehicle type, and you are ready to book a car of your choice.