Car Rental Tunis Charguia Downtown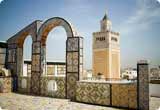 Tunis Charguia Downtown is an industrial area located in the city of Tunis. This area was the first industrial zone built in Tunisia after independence from France in 1956. This area of the city is located right in front of the Tunis-Carthage International Airport and is considered to be one of the most coveted locations for international businesses in the country. Most large corporations and multinational companies have their headquarters in and around the Charguia Industrial Zone. INSAT or the Institute of Science and Technology is also located on the other side of Charguia along with the Olympic Stadium. Other noteworthy landmarks in the area include the Lake of Tunis, the Medina, Tunis Sports City and the Chikli Island.

So, contact VIP Cars now and in a few easy steps of selecting your location, finding your preferred deal and booking you can get a rental car at Tunis Charguia Downtown.