Car Rental Djerba Downtown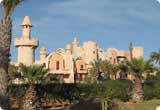 Djerba is an island in southeastern Tunisia and one of the most visited destinations in the country. Served by the Djerba-Zarzis Int'l Airport, this island is well connected to the major cities in Europe and Africa. Downtown Djerba is located in the capital city Houmt Souq. Known as the market city, this town is popular with tourists and was built on an old Roman city called Gerba. This city is noted for having many small streets connected with arcades and its numerous traditional souks. The Fondouks here date back centuries and comprise of a square courtyard with a group of stores at the ground level. Nowadays many such buildings have been converted into hotels and even malls.

Traveling by rental car is the best way to commute here and we, at VIP Cars, ensure that you get the best deals at the most affordable rates while visiting Djerba Downtown.