Car Rental Bizerte Downtown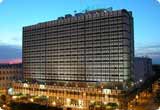 Bizerte is a prominent city located along the Mediterranean Coast in the north of Tunisia. Known as the northernmost city in Africa, Bizerte is also one of the oldest and most European style cities in Tunisia. Bizerte Downtown is the main commercial center of this city and is located west of the harbor. Known as the Market District, this part of the city has a number of markets in it ranging from food item based markets to those dealing in daily use, clothing, western items and imported stuff. The market district is also known for its lively street scenes and colorful atmosphere. The Casbah, or the Old Arab Quarter, is also located nearby and has imposing military style walls, a mosque and Arab style houses.

Bizerte is best explored by hiring your own rental car through the online booking site of VIP Cars and avoiding the hassle and confusion of local languages.