Car Rental Hammamet Downtown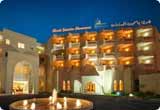 Hammamet is of a popular town located in the northern peninsula of Cap Bon in the Nabeul Governate. This town is one of the oldest touristic centers in the country and is known for the abundance of Jasmine flowers in it. A large number of souvenirs made out of jasmine are also found all over this city which has lent its name to the popular resort area of 'Yasmine Hammamet'. This town is also known for its beautiful parks and gardens and there is a rule of town planning here that decrees that none of the buildings should be higher than the Cypresses here. The Enfidha-Hammamet Airport is the closest airport to this city and connects the city with a number of European destinations.

We, at VIP Cars, provide travelers with efficient rental cars which are ideal for commuting in Hammamet at the best prices and features.