Car Rental Fort Lauderdale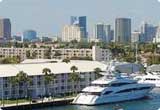 Fort Lauderdale is on the Atlantic Coast of Florida, in the United States of America. It is an incredibly popular tourist destination and is sometimes referred to as the Venice of America, due to the extensive network of canals and other waterways. It is an important yachting centre, with over 100 marinas. There are literally thousands of restaurants and over 100 nightclubs in the immediate surroundings. It has a very mixed and vibrant night scene. Places of interest in Fort Lauderdale include museums, beaches, a huge flea market, shops, and lovely parks. The International Swimming Hall of Fame is on Fort Lauderdale Beach. Within the complex there is a big aquatic complex, a theatre, museum and library. There is only one tunnel on public land in Florida, and it is found in Fort Lauderdale.

Fort Lauderdale enjoys great road links, and is therefore the ideal sport to pick up your rented car from VIP Cars.