Car Rental Willow Run Airport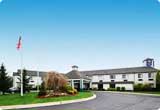 Willow Run Airport is a public airport located in the Van Buren Chartered Township and the Ypsilanti Township in the US state of Michigan. Formerly owned by the US military, and then the University of Michigan, this airport was sold to the Wayne County and is now operated by the Wayne County Airports Authority. This airport gained prominence in the 2nd World War when its manufacturing plant produced the Liberator heavy bombers.

Willow Run Airport is used for general aviation, corporate and chartered flights, and by flight clubs. It has also has a flight school on its premises. Nowadays this airport is mostly known for the aviation museum located in one of its hangars called the Yankee Air Museum. This museum houses a small fleet of flying aircraft along with a large collection of vintage aircraft.