Car Rental Traverse City Airport (TVC)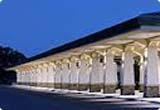 We, at VIP Cars, help travelers using Traverse City Airport in booking high quality car rental deals. The Cherry Capital Airport, as it is officially known, is a public airport serving Northern Michigan. Located around 4 km's southeast of Traverse City, this airport is owned jointly by the Grand Traverse and Leelanau counties. This airport serves over 360000 passengers annually and has achieved a number of awards for ice and snow control in the smaller airports category.

Cherry Capital Airport is used by a number of domestic airlines such as American Eagle Airlines, Chautauqua Airlines, Delta Air Lines, ExpressJet, Pinnacle Airlines and SkyWest Airlines which connect it to destinations such as Atlanta, Chicago, Denver, Detroit, Minneapolis and New York. This airport is also used by private individuals and business companies for general aviation, and by air charter companies.