Car Rental Sawyer International Airport (MQT)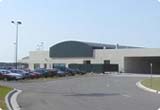 Sawyer International Airport is public airport serving Marquette County in Michigan. Located near the town of Gwinn, this airport is situated on a portion of the former KI Sawyer Air Force Base and is at a distance of 27 km's from the central business district of Marquette. This airport is named after a former Marquette County roads commissioner who played an important role in getting an airport allocated and built here. This airport is used for both commercial as well as general aviation.

Sawyer International Airport is used by low cost airlines such as American Eagle Airlines and Pinnacle Airlines who connect it destinations such as Chicago and Detroit. It is also home to the Aviation Wall of Honor which features many renowned and influential pilots and aviation engineers. This airport also has a few amenities for the convenience of travelers in it.