Car Rental Grand Rapids Airport [GRR]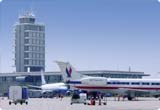 Grand Rapids Airport, or as it is officially known the Gerald R Ford International Airport, is a public airport serving the West Michigan region. Named after the former President of the United States, this airport is the second busiest in the state and serves over 2.2 million passengers annually. This airport has connections to 22 domestic destinations along with one international destination, i.e. Toronto in Canada.

Gerald R Ford International Airport is used by a number of low cost airlines such as American Eagle Airlines, Chautauqua Airlines, CommutAir, ExpressJet, Frontier Airlines, Pinnacle Airlines, SkyWest Airlines, etc, which connect it to destinations such as Chicago, Detroit, Minneapolis, Atlanta, Baltimore, Denver and many more. This airport also has an aircraft spotter location with an outdoor viewing area which includes a picnic area, litter barrels, and a portable toilet.