Car Rental Saginaw Mbs Airport (MBS)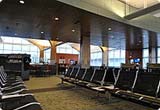 Saginaw MBS Int'l Airport is a public airport serving the cities of Midland, Bay City and Saginaw. Located in the nearby Freeland, this airport is also called the Freeland Tri-City Airport and is owned by the Bay County along with the two cities of Midland and Saginaw. This airport serves over 270000 passengers annually and is used for commercial, general as well as for military aviation.

MBS Int'l Airport is used by a number of low cost carriers such as Chautauqua Airlines, Pinnacle Airlines and SkyWest Airlines which connect it to destinations such as Chicago, Detroit and Minneapolis. This airport is also used for private individuals, businessmen and for chartered flights. Saginaw Airport has a few modern amenities such as free Wi-Fi, ATM machines, vending machines along with a snack bar and a news stand in it for the convenience of travelers.