Car Rental Croatia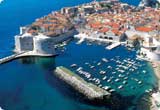 Known for its long coastline and renaissance cities, Croatia is best traveled with a comfort of a car rental. Now, choose from most economical car hire deals for Croatia and explore its Roman ruins, green boulevards, national parks, exotic cuisine, natural islands, classic European architect,coastal resorts, UNESCO heritage sites and postcard beaches.

Top Croatian cities

Capital city Zagreb gives you a feel of being present in an old medieval city with charming old buildings surrounded by beautiful streets. Known for its architecture, this European city has everything from lakes, parks, museums to many Croatian restaurants.

When planning a vacation in Croatia with a rental car, Dubrovnik is surely one of the most important destination. This Mediterranean island city is breathtakingly beautiful with charming little houses and classic Croatian architecture. A city with Venice like surroundings, Dubrovnik is truly an amazing tourist destination with the giant city wall, fountains, churches, museums and and not-to-missed landscape to offer.

Cities like Split and Pula are known for the beautiful Roman ruins and Roman Amphitheater. With each Croatian city offering exotic natural and historian attractions, car rental is a good option for travelers seeking a flexible mode of commuting from one part of Croatia to another.

Top must-see Croatian attractions

Plitvice Lakes

Located in Pltvce National Park, Plitvice Lakes are nothing less than a picture perfect natural wonders with colorful wilderness, lush-full trees, mesmerizing waterfalls and man made wooden walk ways built in and around the lakes. Home to most exotic flora and fauna, Plitvice lakes and the forestry region surrounding it were declared a national park in 1949.

Pula Arena

One of the largest Roman arena that survived the era of its origin, Pula Arena is a beautifully preserved roman landmark with a history that goes back to 1st Century AD. This roman monument is an archaeological wonder as well as venue to modern day's Croatian festivals and events.

Korcula

A beautiful island town, Korcula is the birthplace of the famous merchant Marco Polo. From picturesque houses, gorgeous landscapes, green surroundings, sandy beaches, historic Renaissance architecture, vineyards to charming little villages spread all over the island, Korcula is truly an experience not to miss.

Travelers seeking a memorable vacation in Croatia are often advised to rent a car to cruise through the picturesque surroundings that cover its various island cities like Island of Hvar, Island of Cres, Island of Krk, Island of Solta,Island of Solta and Island of Brac

Rent a car in Croatia

Croatia is a land of naturally beautiful attractions, stunning landscapes and national parks as well as picture perfect towns and villages, with beautiful architecture. From beaches, historic buildings to vineyards, this European country is full of surprises best explored when driving around at your own comfort. We give you freedom to plan your itinerary in Croatia with a low priced car rental.

Apart form easy booking, you also get liberty to choose from top car rental locations in Croatia including major airports and down-towns such as - Zagreb Airport, Zagreb Downtown, Split Airport, Dubrovnik Downtown, Rijeka Downtown, Zadar Airport, Zadar Downtown, Dubrovnik Airport, Rijeka Downtown, Zadar Airport and many more.