Car Rental Dubrovnik Downtown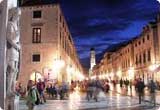 We offer economically priced Dubrovnik Downtown car rentals to our customers. A car rental is one of the best ways to enjoy a vacation, and comes with advantages such as comfort and convenience. With us, you have an access to a wide range of cars across multiple segments, round the clock online Dubrovnik Downtown car rental booking assistance, and inclusive services that we offer through our suppliers. You can also cancel the deal free of cost, 24 hours prior to the actual pick-up.

About Dubrovnik Downtown
The city of Dubrovnik is a popular tourist destination in Croatia. It features in the list of World Heritage Sites declared by UNESCO. The major attraction of the place is the 45-day long event Dubrovnik Summer Festival. Held annually, the festival features a variety of cultural events. Dubrovnik is home to many monuments, churches, fortresses, and museums that you can explore.

Hurry and book your Dubrovnik Downtown car rental!