Car Rental Split Port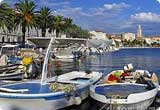 We provide customers with economical and top-quality car hire solutions for Split Port in Croatia. Our huge fleet of rental cars and attractive rental inclusions that we offer through our suppliers augur well for our patrons. We also make sure that you get round the clock booking assistance for Split Port car rentals so that you can get all queries and concerns resolved immediately. Another feature of Split Port car rentals offered by us is the choice of pick-up and drop-off locations.
Split Port is one of the locations where we offer car rental services to travelers in Croatia. From here, you can effectively plan a sightseeing and expedition trip to the city of Split. You will find ample reflections of the past in the museums and archaeological buildings in this part of the world. Split also has some great hotels where you can plan your stay easily.

Rent a car for Split Port today!