Find Your Cheap Zadar Airport Car Rental with VIP Cars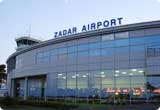 Book your Zadar Airport car rental from VIP Cars and start exploring Zadar – the ultimate gateway to the thousands of Croatian Islands – as soon as you land in Croatia.
Since there is so much to cover in Zadar, a car rental is definitely the best choice of a commute!
Yes! Whether it is the Sea Organ, the Greeting to the Sun, People's Square, Rector's Palace, Foša or Kalelarga, or historic gems like 11th century St. Mary's Convent, St. Anastasia's Cathedral, and pre-Romanesque Church of St. Donatus, a car rental will allow you to explore Zadar, 'on your own terms'!
So let VIP Cars help you find that perfect car rental for Zadar, book with us and make a beeline for a memorable trip from Zadar Airport (ZAD).
(ZAD) Zadar Airport Car Rental – Frequently Asked Questions
How Can I Reserve my Zadar Airport Car Rental (ZAD)?
You can reserve your Zadar Airport car rental (ZAD) through any of the following paths:
Book Online at www.vipcars.com, or
You can send your inquiry by e-mail to support@vipcars.com, or
You can make a phone booking by calling VIP Cars' 24/7 booking support team by calling at +1-914-368-0091 or +44-208-196-9510
What Car Categories are offered for Zadar Airport at VIP Cars?
You can choose your Zadar Airport car rental from the following offered car categories:
Economy
Hatchbacks
Sedans
SUV
Convertible
Luxury
What inclusions are covered in a ZAD Airport rental deal?
Though every supplier offers a different set of inclusions, here are a few common ones that you can expect to find with your Zadar Airport Car Rental:
Collision Damage Waiver (CDW)
Unlimited Mileage
Third Party Liability (TPL)
Theft Wavier (THW)
Taxes
Airport Surcharge
What if I have a problem with my Zadar Airport car rental?
VIP Cars' associate suppliers are known to offer their clients with assistance at the time of need.
In the case of an unlikely event - an accident or breakdown, you can contact the supplier on the numbers printed on the rental voucher. However, note that in the case of an accident don't forget to call the police and make sure that you provide a full account of the circumstances in which the accident occurred, by filing the accident report form.
If your supplier is offering 3rd party liability, well and good, otherwise buy Supplemental Liability Protection from your car rental agency. This is so because the 'Collision Damage Waiver' inclusion only covers the damages to the car rental you have booked, not the other vehicle(s) with which the collision occurred.
Is there a minimum age for renting a car for Zadar Airport (ZAD)?
The renter must be at least 21 or over to be eligible to rent a car for Zadar Airport or any other location in Croatia.
Can someone else drive the Zadar Airport car rental, booked in my name?
Yes, but there might be some additional charges as you will have to add the person as the Additional Driver. These charges may vary from supplier to supplier and the additional driver will only be allowed to drive if he/she fulfills the age, driving license and credit card requirements set by that specific car rental supplier.
Can I change or cancel my car rental booking for Zadar Airport (ZAD)?
Yes, you can modify or change your Zadar Airport car rental at any time, without any need to pay extra charges. However in the case of cancellation, there are further two cases to consider.
If the booking was made without any deposit payment, there will be no cancelation charges even if you get it canceled at the last minute, but
If the booking was made by paying a deposit, for a charge free cancelation you will have to cancel the deal at least 7 days before the pickup.
Documents required for rental pick-up at Zadar Airport (ZAD)
To successfully pickup your car rental for Zadar Airport, you will need to present the following documents at the rental desk
Driving license: The driving license must be issued in your name by the country of your residence. It must be valid in Croatia, and if not you will need to show the International Driving Permit.
Credit Card and ID Proof: Besides the driving license, you will also need to present a valid credit card and an identification document – in its place you can also show your passport. In case you are renting a luxury car, it is possible that the supplier may ask for a second credit card.
Note: The additional driver will also require the same documents to be eligible.
Car Rental Desks at Zadar Airport (ZAD)
The following car rental suppliers – VIP Cars' associates – offer pickup and drop off services at Zadar Airport:
Dollar Thrifty
Fleet
National
ORYX
Sixt
Zadar Airport Car Rental (ZAD) – Basic Driving Rules in Croatia
Some Useful Tips
Zadar Airport (ZAD) – Overview
Zadar Airport is an International airport located in the Zemunik Donji municipality of Croatia and serves the beautiful city of Zadar, whose center sits just 8 kilometers from the airport. Numerous airline carriers like Easy Jet, Eurowings, Ryanair, Luxair and Titan Airways, provide flights for both national and international destinations.
Zadar Airport Facilities
Food and Drinks:
ZAD Airport offers the following venues where passengers can grab a bite:
Banking and Money Exchange:
Drive on the right-hand side and overtake from the left
Speed Limits in Croatia:

Inhabited areas: 50 km/h
Outside Inhabited areas: 90 km/h
Highways and major roadways: 110 km/h
Motorways: 130 km/h

Regulations:

In winters, driving with dipped headlights is a compulsion.
One can't use mobiles while driving on the Croatian roads!
Wearing seat belts is a compulsion; therefore, every passenger whether sitting in the front or the back seats should wear seat belts while moving about in their Zadar Airport car rental.
A reflective sleeveless jacket is an obligatory part of every vehicle's emergency equipment. The driver is obliged to keep it within close proximity and must also wear it when outside the car in the case of breakdown, while seeking help etc.

Since petrol stations are scarce and far apart, you can keep track of their locations by using the Croatian Auto Club's interactive travel map.
Croatia also has roadside tolls, so make sure that you always have spare change with you. You can know about their locations and charges at 'The Croatian Highways website'.
Since the minimum driving age in Croatia is 21 years, make sure that you are always carrying the appropriate ID while driving.

Snack bar Sunset: It offers a variety of food options, a coffee corner and is also the place where you will be able to buy public phone cards, and cigarettes etc.
The Zadar Airport restaurant: If fast food is not what you are looking for, you can enjoy a full-fledged meal at this restaurant.

Wifi:

ZAD Airport provides free of cost Wifi service to its passengers which can be accessed by them from any part of the airport.

To use the service, the passengers just have to search and click on the "SSID Zadar Airport" (free) Wifi on their devices – laptops or smart phones; after that, they can open their web browser, where the interface for access to the Internet will appear.

ZAD Airport Car Parking:

ZAD Airport offers more than 400 parking spaces both for the long term and short term parking. If you want to avoid queues, you can book your parking space online via Zadar Airport's official website.

Zadar Airport Duty-free Shopping:

Now any passenger, whether traveling to EU or non-EU countries, can buy products from Zadar Airport at duty-free prices. The available products range from liquors to perfumes, fashion accessories, and specialty products of Croatian origin.

For the passengers who are traveling in EU countries, the quantity that they can buy has been increased. For instance, you can now take a maximum of 4 packets of cigars, 60l of wine, and max 10l of other spirits with you on board.

Points of Interest in Zadar

Church of St. Donatus

A mind-blowing pre-Romanesque structure, the Church of St. Donatus is located 13.3 kilometers from ZAD Airport.

Zadar Cathedral

Located 13.4 kilometers from Zadar Airport, Zadar Cathedral, a big ornate church with an equally amazing bell tower, is just 18 minutes drive via D424.

Ošljak

Lying between the islands of Ugljan and Zadar's mainland, Ošljak is a beautiful island in the Adriatic Sea. And though it is just 15.4 kilometers from Zadar Airport, it takes about 1.5 hrs to reach as you have to change two ferries to reach the island.

Muzej Anti?kog Stakla

A place, best known for showcasing the ancient glassware of Zadar, and providing lectures and demonstrations, Muzej Anti?kog Stakla is a worth visiting place if you want to explore this specific facet of Zadar's history. It is located 12.8 kilometers from ZAD Airport via D424.

OTP Bank, located in the passenger building, provides full-time banking service at Zadar Airport
ATM: There is also an ATM which sits on the right of the check-in counter
Exchange Corporation: It is located in the International arrivals area.