Car Rental Hotel Casa De Campo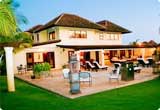 Formerly a 7,000 acre sugar mill land, it is now a fascinating seaside resort situated in La Romana on the southeast coast of Dominican Republic. Casa De Campo's amenities will surely spoil any visiting tourist as it boasts of a 90 hole golf course built by well-known designer Pete Dye, 13 tennis courts, 3 polo playing fields and an all-inclusive 245-acre shooting field. Casa De Campo gives you the rare opportunity of an adventurous sailing from the resort's private Mintas Beach and lets you experience the joy of catching a trophy fish at the Chavon River. This tropical paradise is a perfect venue for weddings, birthdays, anniversary and other celebrations against the awesome backdrop of the famous Altos de Chavon.

When staying at Hotel Casa De Campo, make use a car rental as transportation to this picturesque site. VIP cars.com is a leading car rental service provider that offers a 24/7 customer support booking.