Car Rental San Francisco Macoris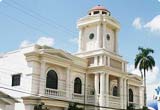 San Francisco de Macoris is a fairly large city in the Dominican Republic. It is also the capital city of Duarte Province. It is situated in the northeast part of the island, in the region of Cibao. There are several local places of interest in the city. These include the City Hall, and the architecturally mixed Santa Ana Cathedral. The cathedral combines Gothic and modern elements.

There are pretty parks, peaceful squares, and many rivers and streams passing through the area. You will have no problem finding somewhere to eat or drink. A great way to see the area and its surroundings is with a rental car from VIP Cars. We have links to all the main car hire companies across the world, thus we get to offer you the very best competitive deals and a broad selection of different rental cars.