Car Rental Puerto Plata Downtown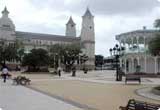 A busy area of Puerto Plata with many things to do, Puerto Plata Downtown is often bursting with locals and tourists. Entertain yourself with live music at the central park for free. Visit top of the mount Isabelle de Torres for a tour of the park or head straight to Christo de Redentor or the Christ the Redeemer replica overlooking Puerto Plata Downtown. With a rental car you can easily visit the historical Fort de San Felipe located at the edge of the bay. You can even have a quiet picnic in front of the fort since it is a nice grassy area overlooking the sea.

Find best rental deals for your commuting in and around Puerto Plata Downtown with us. We give you low priced deals, easy booking and finest collection of cars from top segments. Call now to book!