Car Rental Santo Domingo Este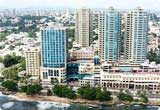 Santo Domingo Este is a municipality of the Dominican Republic and it is situated on the East portion of the Ozama River. Basically, it is within driving distance to Santo Domingo and a car rental would be to your advantage. You can book online at VIPcars.com and avail our low price guarantee and deals all inclusive of taxes and insurances.

Santo Domingo Este boasts of plenty of tourist attractions and its top one is the Columbus' lighthouse. Other amusements to explore within Santo Domingo Este are: Los Tres Ojos Caves, National Aquarium and Mirador Este Park.
Once you have checked all of Santo Domingo Este's attractions you can head out to the bigger tourist delight which is Santo Domingo and relish some local dining. We recommend Buen Provecho which is a mid-range restaurant that offers the country's typical dish of beans, rice and meat. If you want to grab a beer head to the Red Grill.