Car Rental Santiago Caballeros Airport (STI)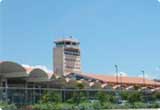 Santiago Caballeros Airport (also known as Cibao International Airport or Santiago Airport among locals) is the second largest airport of the country located within Santiago proper. Santiago Caballeros Airport boasts of its modern facilities and is the most advanced airport hub in the country.

So, before arriving at the Santiago Caballeros Airport, ensure that you have booked a rental car at VIPcars.com. With a rental car, you can easily get to your destinations while making the most of your time in the city. La campana or Qcakes are places quite popular among locals because of its some sweet delicacies.

Santiago is quite known for its nightlife venues, bistros ad bars. We recommend that you try local beers such as Barcelo, Brugal, Extra Anejo or Brazillian Beer Brahma.