Car Rental Puerto Plata Airport (POP)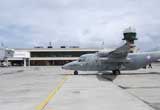 Puerto Plata Airport, also known as Gregorio Luperon International Airport is located in Puerto Plata, Dominican Republic. Puerto Plata Airport is the country's fourth busiest airport and is strategically located in an area with many beaches. It is also near magnificent hotels with a stunning view of the azure sea. The Piergiorgio Palace Hotel is 5.2 km away from the Puerto Plata Airport, situated at Sosua on the North Coast of the Dominican Republic. Another interesting hotel is Villa Chessa Hotel, only 14 minutes away from the airport and offers prices, easy on your budget. There is also Topacio Azul Deluxe, also in Sosua Bay that offers free Wi-Fi all throughout your stay.

With a VIP Cars, you can make your travel from Puerto Plata Airport to the astounding sites you want to visit without hassle and complications. Get deals all inclusive of airport fee, VAT and other local taxes. Book now!