Car Rental Santiago Caballeros Downtown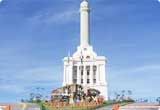 Santiago Caballeros Downtown is a bustling hub of locals and tourists alike. It is filled with business and shopping districts and as such there are plenty of city things to do here. So, in order to enjoy Santiago Caballeros Downtown, hire a car online in advance.
Once you get to Santiago Caballeros Downtown head down to El Monumento Santiago located in AvenidaCircunvalacion and witness the marble monument built in memory of heroes. You can easily drive down to a museum and library located within the area. A modern attraction of the city, Centro Leon is known for its presentations and art galleries.

If you get tired of all the sightseeing then head on to Calle El Sol which is the city's shopping district and be swamped by the many international and local products that you can buy. Book your car online now and plan your itinerary in Santiago.