Car Rental Budapest Downtown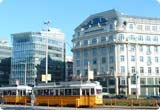 Budapest Downtown consists of district 5. In wide intellect areas situated in the circle of Grand Boulevard can be recognized as Budapest Downtown. Numerous parts of Budapest Downtown are registered as World Heritage Site protected by UNESCO. A stroll along the Danube Promenade stretching out between Elizabeth Bridge and the Chain Bridge in Pest offers a fine scene of the Buda side.

The Uj Fo utca is now a charming place for an easy going stroll and stopping for coffee or lunch in the numerous restaurants and cafes beside the street. Budapest Downtown teems in shops, cafes, restaurants, and nightclubs.

VIP Cars offer high-quality car rental service in Budapest Downtown at economical prices. Having tie-ups with popular suppliers, we have a diverse range of cars for all the travelers.