Car Rental Szekesfehervar Downtown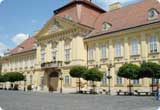 Szekesfehervar is the major city and county seat of Fejer County, Hungary. Situated around 60 km southwest of Budapest, Szekesfehervar is regarded Hungary's first, as this was the majestic seat of King Szent Istvan. Szekesfehervar is situated in between Lake Velence and Lake Balaton, making it a perfect stoppage amongst the two. Bishops Palace overtops Varoshaz square and is one of the leading Zopf style buildings of the Hungary's.

Szent Anna Cathedral is located adjacent to the Szent Istvan Cathedral on Arany Janos utca and one of the few gothic buildings left unaffected by the Turks. Bory Castle is the biggest attraction of Szekesfehervar. Most of the complex is totally open to visitors and you can spontaneously climb the towers or stroll through the gardens and amongst the sculptures.
Book your Szekesfehervar car rental with us now!