Car Rental Szeged Downtown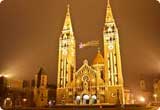 Szeged is a town situated in southern Hungary. Situated in Central Europe, Szeged is the 3rd major city in Hungary. Szeged is the most depletedelevation city in the country and is renowned as the 'City of Sunshine.' Szeged is the foremost city in Csongrad County and functions as a commercial and cultural center of the region. Szeged is asignificant university town and a popular tourist attraction. In the summer, you don't wish to leave out the renowned Open-Air Festival. It is known as open-air because the Dom square is turned into a stage with seats. Like some other Hungarian towns, Szeged also has thermal baths. The two well-known are- Thermalfurdo and Anna furdo.
Travelers can experience economical and hassle-freeSzeged Downtown car rental with us.