Car Rental Kecskemet Downtown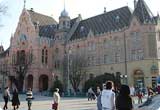 Kecskemet is a town situated in central Hungary and the county seat of Bacs-Kiskun County. Kecskemet is moderatelyequidistant from the southern university city of Szeged and the capital metropolis Budapest around 90 km from both cities. Kecskemet is famous for its secessionist architecture and museums. Old Synagogue is situated around the street from the Cifra Palota on Szabadsag square. This tremendous Moorish-style synagogue at present houses the House of Science and Technics.

Raday Museum of Calvinist Ecclesiastical History is asplendid museum hosts examples of Calvinist Architecture including the ceiling and pulpit from a Transylvanian church, adisplay on clocks, anassortment of chalices and a mineral collection.
It is advisable to rent a car in Kecskemet Downtownto explore all the major city attractions.