Car Rental Miskolc Downtown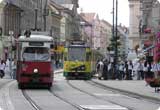 Miskolc Downtown is mainly the historical part of theMiskolc city, Hungary. Most of the typical buildings of Miskolc can be discovered in the downtown though the most renowned ones like the Cave Bath of Lillafured or the castle of Diosgyor are outside of it. The most important street of the city is the Istvan Szehenyi Street. In Hungary, Szechenyi Street is usuallyconsidered to be the longestchief street in Europe.

National Theatre of Miskolc is a neoclassical building established in 1857. The International Opera Festival of Miskolc is organized here every year. The Theatre Museum can be found out on Mrs Dery Street. The shopping quarter of the city is found out in the locality.Whether on a business trip or leisure tour, VIP Cars offer best Miskolc Downtown car rental services at low-cost.