Car Rental Zalaegerszeg Downtown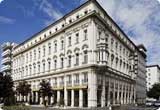 Zalaegerszeg is a city located in Hungary and the administrative seat of county Zala. Zalaegerszeg lies on the banks of the Zala River. Around Zalaegerszeg of two typical plant communities- lakeside meadows, the valleys, willow and alder are typical. In 2001, Zalaegerszeg hosted the Central European Olympiad in Informatics. Open-Air Museum is the first ethnographic museum of Hungary with the Finno-Ugric collection.

Major landmarks of the city are - Museum of the oil industry, AquaCity - Water Park in the Sagod district, Gocsej Museum, Gebarter craftsman house, and Deak Square with former County Hall. Car rental in Zalaegerszeg Downtown is the best economical option to explore the entire city with utmost ease. In affiliation with leading car suppliers, VIP Cars provide an excellent fleet of cars ranging from economical to luxurious segments.