Car Rental Tatabanya Downtown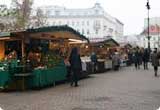 Tatabanya is located at the base of Stone hill in the valley amongst the Gerecse and Vertes hills. Because of its location it is asignificant junction.

Tatabanya is the capital of Komarom-Esztergom County. Tatabanya was primarily an industrial and mining town till the amendment of the political regime. The most significant cultural institution is the Mari Jaszai Theatre. Tatabanya has various other institutions including libraries and museums. On Stone hill providing a lovely view a statue of a Turul bird was set up in memory of the victory of Banhida. Cave Szelim is renowned for the outcomes from the prehistoric period and opens from the rock walls. Tatabanyalying in the valley of the brook Galla is an economic and tourism centre.
Avail low-costTatabanya Downtown car rental deals at us.