Car Rental Debrecen Downtown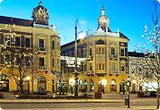 Debrecen is located adjacent to Hortobagy on the east side of the Great Plain in Hungary and is the 2nd major city in Hungary. Debrecen is rich in historical places, historical buildings and good-looking surroundings like Hortobagy or Lake Tisza.

Debrecen has a thermal bath and entertaining aquapark. At the train station, you will discover the highest building in Debrecen which is the 20-storey building initially was designed to Miskolc. From the Kossuth square, you can take on a 5 min extra walk to the renowned Deri Museum. Debrecen Plaza situated precisely north of the downtown and simply reached by tram #1 is a small shopping mall. Every year, there is a whole day of celebrating the summer and national holiday on 20 August with stirring pictures or statues crazy of flowers and lots of other mardi gras.

Get comfortable and economical Debrecen Downtown car rental service from us.