Car Rental Cagayan De Oro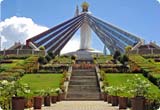 The capital city of province Misamis Oriental in Mindanao, Cagayan de Oro is a beautiful and modern city of Philippines. Famous for its kayaking and whitewater rafting, Cagayan de Oro is the place to be if you love water adventures. You can enjoy a variety of sports, delicious cuisines and stay at fine hotels in this city. There is something for everyone and you can come here alone or with friends and family. So if you have been thinking of taking a holiday, come see the delights offered by this beautiful place.

Rent a car from VIP cars and enjoy the city life on your own pace. You can go anywhere you want, anytime you want to. We work with the best car rentals in the country and can provide you with widest selection of cars.