Car Rental United Arab Emirates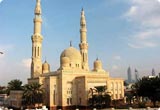 Choose from a fine fleet of rental cars in UAE to get around the biggest and most astonishing attractions, spread across its beautifully designed emirates. Now enjoy our exclusive iPhone app for that easy and anytime car rental bookings, to play your stay in UAE.

UAE or United Arab Emirates can be easily defined by its its tall skyscrapers, gigantic deserts and richness seen among its hotels, resorts, malls and extravagant automobiles across the country. Surrounded by large roads, high speed highways and endless number of places to drive to, UAE is best covered with a car rental.

Abu Dhabi

Abu Dhabi is the largest emirate in the country with capital city of same name. Abu Dhadi city has the perfect skyline, rich and wealthy citizens, high rise malls and much more. This city is also home to a Yas Island, Emirates first ever motor-sport city with world-class motor sports racetrack, Ferrari theme park and luxurious malls.

Dubai

Dubai is often the first the destination among many travelers arriving on a leisure trip to UAE. The dazzling skyline that sparkles in the night, the posh nightlife and endless number of shopping opportunities with malls bigger enough to form a city in itself, Dubai is big, tall and huge in every aspect which makes car rental a necessity. A fine combination of old and new city, Dubai pleases every travelers. Modern world is still mesmerized by its gigantic and massively tall Burj Khalifa.

Al-Ain

Located in Abu Dhabi Emirate, Al-Ain is a beautiful oasis town with natural wilderness of mountains, a historical fort created to guard the oasis city and endless number of palm trees surrounding mesmerizing oases all over the region. You could either walk around and experiences the wonder of an oasis or rent a car and drive around to explore local parks, hot springs, natural cave and get taste of man-made water adventure destination with surfing, kayaking and rafting.

Al-Ain is an inland forming a link between Abu Dhabi and Dubai, a road trip is best way to cove the triangle of the 3 cities with some of the most opulent and jaw-dropping attractions to cover. With a car rental from top suppliers of UAE, you can easily plan your road trip between the cities as you drive through most amazing deserts, sky-scarpers and modern highways.

Umm al Quwain

A calmer and prettier Emirate, Umm al Quwain is a town with 200 years old history to it. Modern day's Umm al Quwain is home to worlds largest water park Dreamland, camel racing track and breathtakingly beautiful coastline. This part of UAE has a lot of entertainment and leisure activities to offer to everyone from grown ups to kids with Happyland, Palma Bowling Club,Umm Al Quwain Motor Racing Club and more; all you need a rental car. This little Emirate town is also a popular name among avid birdwatchers.

Exploring the mighty UAE with luxury of a car

Find luxurious collection of high end SUVs and sedans to economy wheels for your stay in UAE with VIP Cars. Planning a road trip within a city or a tour covering different emirates, we give you best in industry car rental options for UAE with a variety of pick up and drop of locations including top airports such as Dubai International Airport, Sharjah Airport and Abu Dahbi Airport.

Posh malls to huge souqs, modern skyline to classic old forts and palaces, never ending highways to desert boulevards, UAE is best enjoyed with a rental car to drive around at your own convenience.