Car Rental Jumeirah Beach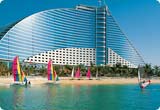 Jumeirah Beach is a white sandy beach and has been named after Dubai's Jumeirah district. The Jumeirah Beach stretches along the south coast of Dubai's history region that to the junction, along with the Palm Jumeirah. The most symbolic element of the Jumeirah Beach is the Jumeirah Beach hotel. It has 19 beachfront villas, 598 suites and rooms and over 20 bars and restaurants. The Jumeirah Beach Hotel is designed in the shape of a wave and complements the Burj Al Arab's sail shape.

The hotel is located on the beach, which enables guests to access the beach and experience the best of both land and water. The Wild Wadi Water Park is next to the hotel and guests of Jumeirah Beach Hotel have access to it. If you want to get to the city from the hotel in ease, comfort and convenience, rent a car online. Call our booking team to book your rental!