Check Out the Easiest, Fastest Way To Hire a Car at Dubai Airport Terminal 1
Don't let anything go unexplored as you can see all by renting a car at Dubai Airport Terminal 1. VIP Cars makes it quick and easy for you to hire a car at Dubai Airport Terminal 1. Saving you from all the confusion of tracking individual rental car agencies, we simplify the process of renting a car at DXB Terminal 1 by bringing all leading rental car companies at one place. As you start looking for a rental car on our website, we search the database of our trusted suppliers to show you the best and cheapest car hire deals for Dubai Airport Terminal 1. Moreover, you will pay what you see on your screen, leaving behind all your worries concerning either hidden or additional charges.
Our Car Rental Partners in UAE
We give you a direct access to a larger pool of rental cars for DXB T1 through our strategic association with UAE's leading car hire suppliers.
Sixt
Thrifty
Hertz
Avis
Budget
Dollar
White and Black
Europcar
Dubai International Airport (DXB)
Ranked among the world's busiest airports, Dubai International Airport handles more than 70 million passengers annually. Dubai Airport houses three massive passenger terminals, with each one having its own dedicated rental car facility. As VIP Cars offers a hassle-free car rental reservation right from the comfort of your home, you will find your rental car waiting for you as you reach the rental desk of your preferred supplier. Owing to VIP Cars' decadelong expertise in providing best suited car hire solutions, it is no surprise that we continue to enjoy mutually rewarding association with the world's most reliable rental car companies. Depending upon the rental car, along with the preferred car hire agency.
 

Dubai - United Arab

Emirates

 

IATA Airport Code:

DXB

ICAO Airport Code:

OMDB
Basic Information
About DXB T1 & its Services
Covering a massive 101,184 sq m, the Dubai Airport Terminal 1 caters to more than 60 international air carriers. Following a major expansion project aimed at enhancing capacity, Dubai Airport Terminal 1 accommodates nearly 20 million passengers annually. Provided with four car parking areas namely, Car Park A, B, C & F, Dubai Airport Terminal 1 has space for more than 2,500 cars.
Moving around has not been of any problem as the Dubai Airport Train connects Terminal 1 to Concourse D. Besides regular airport-specific services such as ticket sales counters, immigration counters, baggage service lounges, and rest areas, you will find Dubai Airport Terminal 1 shops area packed with an elaborated range of retail outlets, restaurants, snack bars, and fast food joints, all scattered across departures and arrivals halls of DXB Terminal 1.
Duty Free Shopping

at DXB
---
The undisputed king of tax-free shopping, the Dubai Duty Free (DDF) at the airport remains open 24 hour a day. A staggering annual revenue that surpasses $2 billion is a testimony to the ever growing popularity of this facility. While you will find duty-free shops scattered around all the terminals, the Terminal 3 is distinguished for its biggest duty-free store. The wide range products include – exotic wines, premium perfumes, luxury watches, fine quality apparels, cosmetics, electronics, and leather goods.
Which
Dubai Airport Terminal 1


Rental Car Works Best for You?
---
While the mini, economy, and compact cars' segment is ideal for single travelers and couples, full-size and SUVs are perfect if you intend to carry three bags. We also offer spacious vans/minivans and 7 & 9 seater cars, which comfortably pack in four large bags.
Opt for a stylish convertible or a premium luxury car if you want to make your trip a memorable experience.
You can also pick your car at the following points:
Dubai Airport Terminal 2 Car Rental
Used by over 50 airlines, Dubai Terminal 2 provides scheduled flights to countries like India, Afghanistan, Pakistan, Saudi Arabia and Iran.
Read More
Dubai Airport Terminal 3 Car Rental
Partly underground & shared by Emirates and Qantas, DXB T3 offers international flights to almost all major locations around the globe.
Read More
Sightseeing in Dubai With DXB Terminal 1 Car Rental
What used to be a small desert town of the UAE, Dubai has now become an incredible city known for its opulence. Dubai has transformed itself from a small desert town to world's leading tourist destination in a span of few years. As the city offers plenty of things to do and explore, you will need a rental car to move around freely and hiring a car at Dubai Airport Terminal 1 makes perfect sense. Most visited places in Dubai include -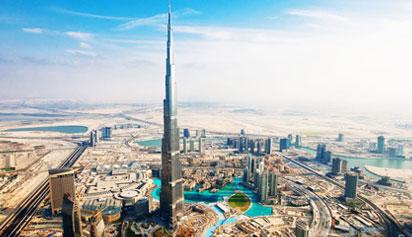 Burj Khalifa
Burj Khalifa - The world's tallest structure - remains the most visited place in Dubai, UAE.
It offers breathtaking panoramic views of the city from its observatory decks on levels 125 & 148.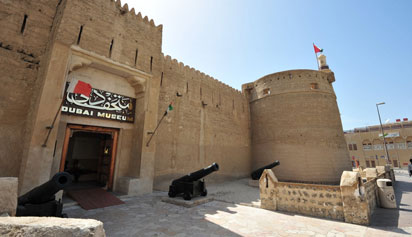 Dubai Museum
Housed in the Al Fahidi Fort, the Dubai Museum is one of the oldest surviving buildings in Dubai.
Spread across a massive 4,000 sq m, Dubai Museum's aim is to showcase the Emirate's traditional life.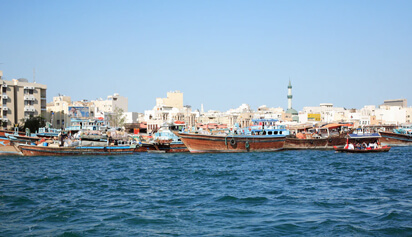 Dubai Creek
With promising options like a leisurely stroll & a boat ride, Dubai Creek is a great place to unwind yourself.
Restaurants, shopping centers, cafes, and nightclubs, Dubai Creek is also apt for a lively late evening.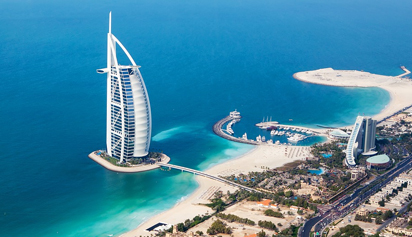 Burj Al Arab
One of the tallest luxury hotels in the world, the Burj Al Arab is an iconic structure built on an artificial island.
Besides its 28 double-storey floors, it also houses 2 classic restaurants - Al Muntaha and Al Mahara.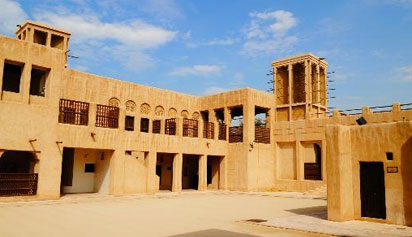 Saeed Al Maktoum House
The house, once the residence of King Saeed bin Maktoum Al Maktoum, is a building of high historical importance.
It now functions as a museum & houses artifacts and historical images of the old town of Dubai.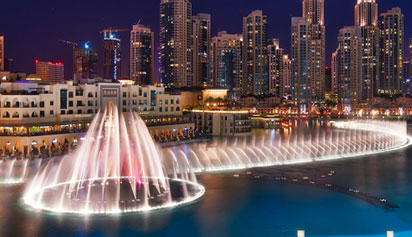 Dubai Fountain
Designed by WET Design, Dubai Fountain is the second largest choreographed fountain in the World.
Spread over 30 acres of Burj Khalifa's man-made lake, Dubai Fountain is the heart of Downtown Dubai.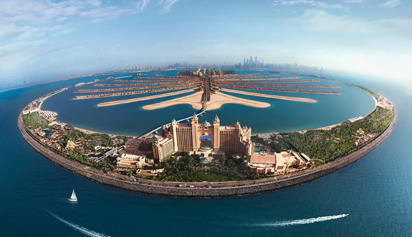 Palm Islands
Located on Dubai's coast, Palm Islands is another incomparable engineering feat of Dubai.
Consisting of 3 islands - Deira Island, Palm Jumeirah, & Palm Jebel Ali - it is an entertainment hub.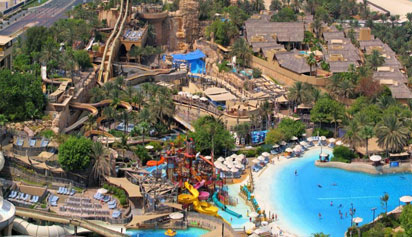 Wild Wadi Water Park
Located near Burj Al Arab, it offers 30 rides themed around Juha, a well-known character of the Arabian folklore.
The presence of 2 restaurant chains within the Park, also makes it a great place for some mouth-watering food!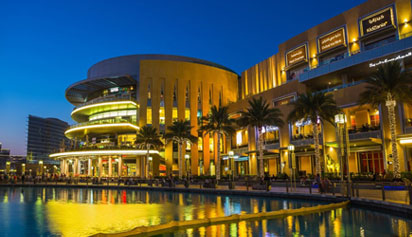 The Dubai Mall
One of the biggest shopping malls in the world, the Dubai Mall attracts about 50 million visitors every year.
Attractions: Dubai Aquarium & Underwater Zoo, SEGA Republic Theme Park, and KidZania.
Why Not Take the Road Less Traveled With Dubai Airport Car Rental
If you are among those who cross out the ordinary and instead look for something different, the following road trips are definitely worth considering.
Fujairah to Dubai
184 km
---
Best known for: Coastline Along the Gulf of Oman
Liwa to Dubai
292 km
---
Best known for: Sand Dunes, Desert Resorts
Dibba to Dubai
130 km
---
Best known for: Panoramic Views, Road Along Sea Coast
Ras Al Khaimah to Dubai
113 km
---
Best known for: Water Sports, Paragliding
Jebel Hafeet to Dubai
147 km
---
Best known for: Scenic Desert Views, Rocky Limestones
Worried About Driving in Dubai?
The following Dubai Airport car hire tips come handy as you get ready to hit the road.
Don't forget to carry your driving license, credit card, and an additional identity proof, while you plan to rent a car at Dubai Airport. Also note that distances as well as your vehicle's speed are calculated in kilometers instead of miles in Dubai.
Majority of roads are regulated by a toll system. Don't forget to buy a prepaid card before driving your rental car on toll roads. Avoid driving around Dubai Airport during rush hours.
Dubai uses left-hand drive cars and getting a GPS-enabled rental car helps in navigating routes in and around Dubai.
As Dubai continues to experience hot summers all round the year, ensure that you necessarily book an air-conditioned rental car.
Want to get the best deal on rental car at Dubai Airport Terminal 1? Try VIP Cars today!